A Short Study of
Early American Milk Glass
1830s to 1900
Opaque white (now called milk glass) and opalescent milky white (fiery opalescent) pieces of glass have been pressed in America since the 1830s. It is thought by some that milk glass was chosen by the less rich, as a substitute for porcelain. Early such pieces are difficult to find today and are of flint glass (click HERE for article on Flint glass).
By the 1860s lines of some patterns were made in milk glass and there are occasional pieces of other patterns found in rare forms which might have been experimental. Candlesticks and lamp bases were also made in this pleasant shade.
| | |
| --- | --- |
| | In the American beginning (1830s), there were mostly small pieces like drawer pulls and Curtain Tiebacks - some of which in New Mexico are now used as towel holders (see below). |
Believe it or not these huge curtain tie backs of opalescent flint weigh almost
2 pounds each! They would have been used in the mid- 1800sin a mansion or
possibly a stage curtain.

These are known as the Sandwich Petal & Shell pattern tie backs. They have been widely reproduced in many colors today.

The early ones are hard to find but we have some for sale

HERE

. We use

them for towel holders too.
| | |
| --- | --- |
| | |
| A fiery opalescent lacy master salt in Boston & Sandwich's Crown pattern. | A fiery opalescent cup plate which unfortunately presented the resident camera person w/ an insurmountable photographic challenge. |
| | |
| --- | --- |
| | |
| A rare honey dish of the Loop & Dart pattern in milk glass possibly by Boston Sandwich ca 1870s. | One of the scarce pieces made in the 1870s pattern Bleeding Heart. |
This is a good example of what is meant by the term "fiery opalescence". A heavy, flint cov'd sugar bowl in the early Colonial pattern by Curling Robinson & Co & others ca 1850s. Look at the 'fire' when the sun is near!
| | |
| --- | --- |
| | |
| A Monkey pattern spooner. | A Sandwich Fairfax Strawberry flint cov'd sugar by Bryce Walker ca 1870s. |
These 2 pieces of Swan patterns show the difference in the translucent (left) and the opaque (right) milk glass.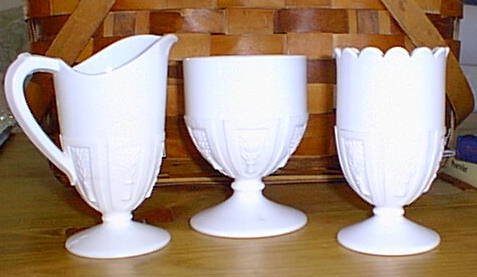 A creamer, open sugar and spooner in Hobbs
Panelled Wheat pattern ca 1870's
| | | |
| --- | --- | --- |
| | Many covered novelty dishes were made but not many were signed in the lid and base by McKee (see at Right). | |
| | | |
| --- | --- | --- |
| | | |
| Only one other example of Beaded Panel pattern in milk glass is known to exist and it is in the Greentown Museum. Made by Indiana Tumbler ca 1902. | An assortment of teeny tiny toy dishes in milk glass. Note the relative size compared to the penny. These are in our Toy Glass Store HERE. | A very rare water pitcher of Findlay's 1890's pattern Stippled Forget Me Not in milk glass. |
The National Milk Glass Collector's Society can be reached by clicking
HERE
.